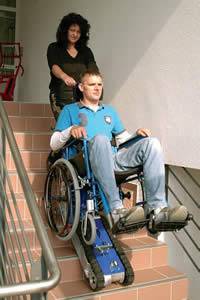 Stair-mate is an easy to use, portable wheelchair lift designed to attach under most manual wheelchairs. Stair-mates powerful motor allows a small attendant to safely transport a larger person up and down stairways. Stair-mate is suitable for indoor and outdoor use in public buildings and private homes. An affordable and reliable portable access solution.
Features: Attaches to most standard wheelchairs with push handles (adult|child), Powered to carry 130kg (285lbs) up approximately 30 floors. Use on virtually any indoor or outdoor stairway. Stable and self-supporting. Durable tracks grip stairs securely. Detachable support handle for compact storage and easy transport. Quick-release safety belt. Key switch restricts use to authorised persons. Rechargeable batteries and charger.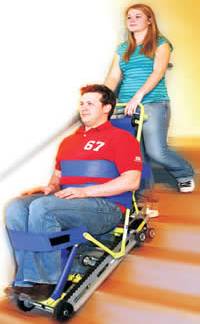 The Evac-Track is an evacuation device used to move people with a disability or injury down stairways quickly and safely during an emergency.
Its patented speed governor and braking system allows a small attendant to easily evacuate a larger passenger.
In an emergency such as a fire or an earthquake, elevators should not be used. People with limited mobility may be trapped.
Evac-Track provides a lifeline to safety.