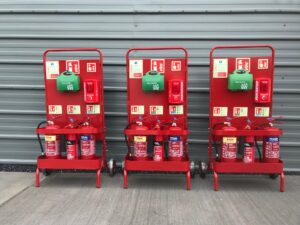 Contractor Trolley Stand
One of the most popular safety products to encompass all demands of a construction site is now available to purchase through GD Gendist Fire & Safety. 
The unique range of mobile fire points has been carefully engineered, following extensive research into what does and doesn't work on sites, and what the end-user needs. This means that the Contractor Trolley is not just 'another trolley', but indeed, an innovative solution with several features which the world has never seen before.
The world famous Howler alarm is available in many different formats including the ability to interconnect these across your working site, First Aid Kits, Fire Actions Signs, Evacuation Plans, Document Boxes can all be fixed and supplied on this trolley.
The options on the Contractor Trolley range are extensive – if you need to create a fire point customised and personalised to your company requirements, the Howler solution is your simple answer. Contact us today on 01/4137300 or today to discuss your requirements.
Features & SPECIFICATIONS
MODULAR CONCEPT – The Contractor Trolley is a modular design, enabling you to 'grow' the fire point to the size of your choice. This offers you the ultimate in flexibility, the extinguishers and sizes are matched to the risks on site.
STABILITY – The centre of gravity on the Contractor Trolley has been carefully positioned to maximise the stability of the unit.
READY-TO-ROLL – The backboards come with laser cut fixings holes in position for fitting accessories such as Howler alarms and document holders.
CABINET OPTION – For security and weather protection, the cabinet offers unparalleled protection.
SIMPLE TO TRANSPORT – Transport brackets for removable backboard reduce the Contractor Trolley down to minimum height for moving around.